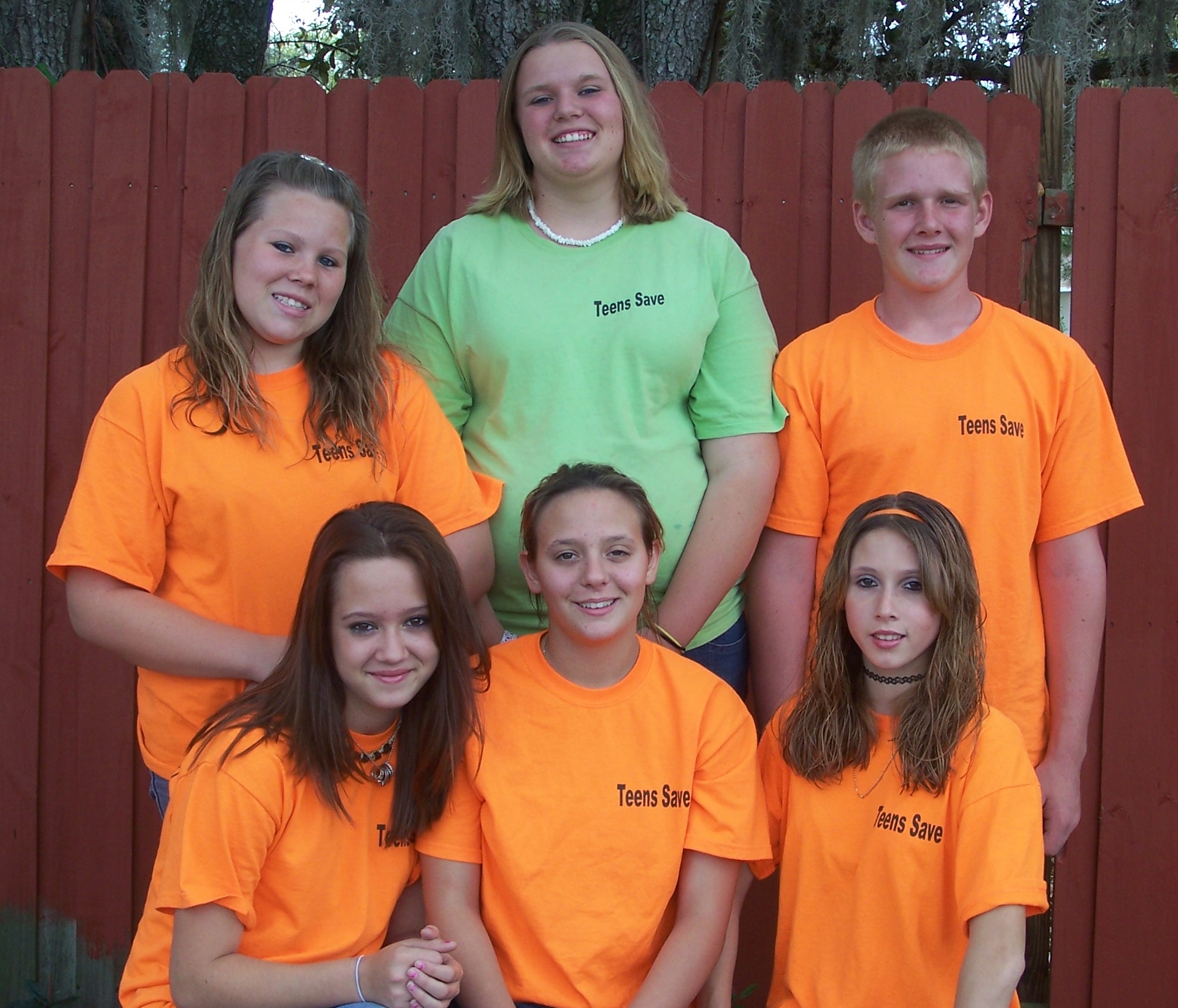 2009 Officers
Back Row:
Lauren Potter Vice-President, Samantha Davis Chaplin, Jeff Powell Treas.
Savannah Hill Reporter, Shelby Kelley Founder/President, Jessica Phillips Secratary
We are Teen's Save Inc., Not only does this program, teach young adults about truth, honesty, integrity, and faith, it also teaches them leadership, loyalty, and understanding of the world today.
Founded in 2005 by Shelby Kelley, who was then only 12 Years old, Shelby wanted to help Katrina victims, she wanted to send them something to believe in rather then just another material item, so after lots of thought and consideration, she made 2 phone calls and a week later, over 5,000 bibles, showed up to be delivered to victims of Katrina. When asked why bibles, she responded by explaining they just need to know they were and are never alone! With this started Teen's Save, 16 active members now in 2008, and still adding, kids range from 9 to 15 years old.
"Changing the World'
In the first few meetings, and when all new members become active Shelby starts by explaining that the world can be changed for the better it just takes doing it one person at a time. Through the years the kids have remodeled homes for cancer, and disabled people, helped to pay light, and water bills. Feed those who were hungry and placed 4 people from the homeless shelter into new lives. Found foreclosure help to those in crisis, and helped with emergency medical needs. They send Care packages to our military abroad, and to those injured and recovering in Virginia.
They collect blankets and jackets, socks, and shoes, and toys for local children. During Christmas time they hold fund raisers to not only feed families for Christmas but to bring smiles to children faces when Christmas morning comes around. It's never much but it is always something and a lot of fun. Shelby says "Santa does exist he or she may just not look like the mall Santa's", then laughs winks and walks away.
"Life for these kids"
Life is hard the kids told me one day. I understand why so many people are depressed and mad, they have that right it is hard. Jobs are hard to find, businesses closing, real estate is in the hole, and lets face it, there is no other word than HARD! These kids all come with a story, hardship, hunger, alone, they have all seen how the world really is. The amazing thing is they set there feelings aside just to help someone else. I don't know many adults that would do that. So in 2008, Teen's Save celebrated there 3 year anniversary, and by doing this became incorporated, Thanks to Mr. Bret Jones an attorney in Clermont, Fl., Ms. Ann Kinsey owner of CSI in Tavares was also a big, supporter, and then Ray Toot Owner of Sundance MFG came on board and has since became an honorary member. So now we are reaching the adults. Also Check out (2) articles In the Orlando sentinel (Lauren Ritchie)
Shelby told us one day that the only thing wrong with the youth today was the adults leading them. The kids believe education is the key ingredient to making a successful life, and understanding life is an everyday obstacle, and they believe they are up to the challenge. Shelby only has one question "are you"? Please visit our web site to learn more, and take a look at us working, Smile at someone today, open a door for someone, and always say thank you. It just may lighten some ones day.
Christmas 2008
412 kids was gifted, 87 families Christmas dinner, 12 at Westminister nursing home was gifted, and 16 terminal children got quilts.
There is still a lot to do please see our up coming events page, and projects page, there are so many people in need, and It is going to take everyone to get through these hard times.
Our Goals for 2009
To help people of course, but we hope to branch Teen's Save out to other counties, through the state We need more people, and teens involved. It's our generation that has to start the change for the better. So it is going to take as many people, and youth as possible. Turn off your TV, and Radio and look around, it can be done, we have to work together is all.
One thing we have learned from this year is now that we are incorporated we have to start fundraising early. There are more and more people, homeless, hungry, cold, and we need to do more and more to help these people. You figure only 1 in every 10 people we ask for help, will help. So we have to reach more people.
This year we have met some pretty amazing people, I wish I could list them all, however some do not want to be listed. And I respect that. God has a plan for everyone, and where mine may not be straight A's, I know it is to help people, though my entire life. There is a need inside of me to help people. I can't really explain it. It just really makes me feel good, puts a smile on my face, and warms me from the inside. I know there are some people who may not understand this and that's fine, you should still try it one time.
We would like to set the goal of helping at least 5,000 people in 2009, I would really like to double that and who knows anything is possible.